Locker Combinations is a Book Case feature by BookPage contributor and young adult (YA) literature expert Jill Ratzan. Using a variety of literary, cultural and educational perspectives, Jill guest blogs about the latest in YA lit and the general direction, trends and changes of the field.
Later this month, 10,000 librarians will converge on the city of Philadelphia for the American Library Association (ALA)'s Midwinter Meeting, five days of committee meetings, speakers, vendor exhibits and general hobnobbing. Many will venture out into the chilly January pre-dawn to snag good seats for the 8:00am announcements of the ALA Youth Media Awards, the Academy Awards of the children's and young adult (YA) literature world.
If the Youth Media Awards are the Academy Awards of youth literature, the Michael L. Printz Award is the YA lit equivalent of Best Picture.
It's awarded annually to the best—defined exclusively by literary merit—book published for teens in the previous year. The Printz committee can also name up to four Honor Books, or second-place finishers.
Compared to its much older children's literature cousins the Newbery and Caldecott Medals, the Printz, first awarded in 2000, is a relative newcomer. Since then, similar YA awards and recognition lists have either joined the party for the first time or gotten a makeover. These include the William C. Morris YA Debut Award and the Best Fiction for Young Adults list, as well as specialized lists like the Amelia Bloomer Project, recognizing the best of feminist-themed books for children and teens.
Much can be said about the awards' effects on YA purchasing (To what extent do sales spike after award announcements?) and publishing (Does the presence of an award to aim for encourage publishers to produce more YA lit in general—or to take more risks on edgy styles?), but to me the more interesting issues have to do with canonization, visibility and legitimacy.
Printz award winners, like those of the Newbery and Caldecott, instantly become canonical works of young peoples' literature. Teachers of YA lit (myself among them) often recommend that students consider the Printz backlist as a pre-assembled required reading list. Readers new to YA lit, whether formal students or not, can use the Printz to identify some of the very best works that the young adult category has to offer. Of course, not all excellent YA books become Printz medal winners or Honor Books, and not every winner is going to resonate with every reader. But with a variety of stunning offerings ranging from the atmospheric The Scorpio Races by Maggie Stiefvater to the hilarious Angus, Thongs, and Full Frontal Snogging: Confessions of Georgia Nicolson by Louise Rennison, the Printz list is a good starting point for dipping into YA lit's riches.
Awards that recognize excellence in YA literature also add visibility, and by extension a degree of legitimacy, to the field of writing for young adults.
While devotees of YA lit might wonder why this is an issue—of course YA is an easy to find, worthwhile category!—this very puzzlement may be a testament to the awards' success. YA guru Marc Aronson, who helped establish the Printz award, believed that the visibility of teen lit was part of the purpose of the medal. Writing shortly after the establishment of the Printz (but before the announcement of its first winners), Aronson explains in Exploding the Myths: The Truth About Teenagers and Reading that "the Printz is not merely designed to honor a few books; it is meant to bring new attention to teenagers and reading." Although Aronson acknowledges that attention alone isn't quite the same thing as recognition of YA as a legitimate art form, it's a first step in that direction.
Every year, YA lit readers try to guess what book will walk away with the gold Printz award seal. Teens debate their favorites in Mock Printz committees while librarians muse about possible winners on blogs like School Library Journal's Someday My Printz Will Come.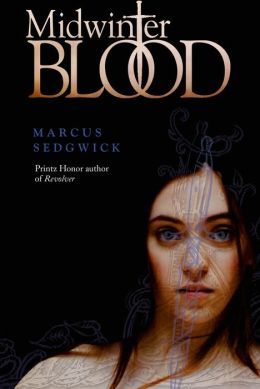 My own choice for this year's Printz is Midwinterblood by Marcus Sedgwick.
Reminiscent of Madeleine L'Engle's 1978 YA classic A Swiftly Tilting Planet and the 1999 adult title Girl in Hyacinth Blue by Susan Vreeland, Midwinterblood presents seven interconnected narratives in reverse chronological order. All seven take place on a remote northern island where blood, magic and mystery exist in equal measure, and where the power of love just might conquer time itself. Midwinterblood weaves themes from art, literature, mythology and history into a multifaceted work of fanfiction. (To impress classics professors or religion scholars at your next cocktail party, try calling it a palimpsest or a midrash!)
Most of all, Midwinterblood makes its readers work hard to uncover its secrets. That makes it a top Printz contender in my book.
So, in three weeks' time, one lucky author (or maybe a team?) is going to get a terrific phone call from the Printz committee very late at night . . . or very early in the morning, depending on your point of view. But while only one book a year can have that gold seal, the thousands of YA lit fans who read and relish that book may very well be the real winners.
What do you think? What's your own pick for the 2014 Printz?