Author Robert Goldsborough first started writing mysteries in the voice of Rex Stout, creator of classic sleuths Nero Wolfe and Archie Goodwin, when he was a journalist at the Chicago Tribune. In his newest Nero Wolfe mystery, Murder in the Ball Park, portly Nero and his sidekick Archie must solve the murder of a state senator who is shot dead at a Giants v. Dodgers game.
In a guest post, Goldsborough asks himself a few questions about his fun new book.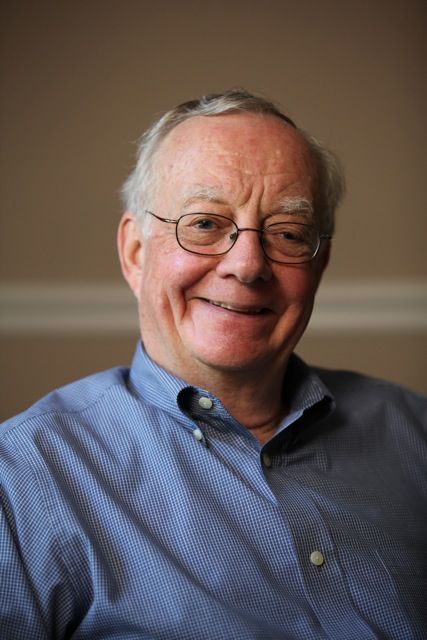 GUEST POST BY ROBERT GOLDSBOROUGH
Q: Why did you decide to write about baseball in your upcoming mystery, Murder in the Ball Park?
A: I have always loved baseball, so it is no surprise that I finally worked the national pastime into a Nero Wolfe novel, my ninth as the Rex Stout estate's approved continuator of the Wolfe series.
Murder in the Ball Park, from MysteriousPress.com and Open Road Integrated Media, opens with a murder scene in the mid-twentieth century during a game being played at the Polo Grounds, the historic New York baseball stadium that for decades was home to the New York Giants before they departed the Big Apple for San Francisco in the 1950s.
Interestingly, Nero Wolfe creator Rex Stout also was an ardent baseball fan—and the Giants were his team. As his daughter Rebecca Stout Bradbury has told me, he loved the Giants but did not like the Yankees. Stout even set a Wolfe novella, This Won't Kill You from the 1954 trilogy Three Men Out, at the Polo Grounds during a fictional Giants–Boston Red Sox World Series.
The Polo Grounds are long gone, having been razed in 1964. The site, at the north end of Manhattan near the Harlem River, is now occupied by the Polo Grounds Towers, a housing complex comprising four high-rise residential buildings. But the venerable stadium lives on in the pages of Murder in the Ball Park.
In writing this book, it was necessary for me to do research on the Polo Grounds, which as a Chicagoan I had never seen, but only heard about as a kid listening to Chicago Cubs games being broadcast from New York on the radio. The ball park had a strange shape, being long and narrow, more like a football stadium. This meant it had a very deep center field but extremely short dimensions down the left- and right-field foul lines—one of the factors in the book's murder. Also, the stadium was nicknamed "Coogan's Bluff" because of a promontory or cliff of that name that overlooked the field and was a vantage point providing non-paying spectators a view of the action far below.
Q: Why did you begin writing the Nero Wolfe stories?
A: My mother loved Rex Stout's Wolfe stories and felt that because of their relative lack of gore, sex, and swearing, they were suitable for a teenager to read. I became hooked on them and after Rex Stout's death, I wrote a Wolfe story as a gift to my mother. Years later, it was published as Murder in E Minor.
Q: What sets Stout's detective duo apart from other fictional investigators?
A: The relationship between Nero Wolfe and Archie Goodwin. Wolfe is a genius, but Goodwin, unlike many detective sidekicks, is one smart cookie himself, and the two men complement each other. Wolfe is brilliant but sedentary, while Goodwin is fast on his feet and able to navigate the mean streets of New York, bringing suspects to the brownstone where Wolfe invariably unmasks the culprit(s).
Q: What's the difference between continuing the Nero Wolfe Mysteries and creating your own investigator?
A: I have written five Chicago-based historical mysteries for Echelon Press featuring a Chicago Tribune reporter named Steve "Snap" Malek, who ends up as an amateur sleuth. In these stories, I can totally invent new people and situations. In the Wolfe stories, I use the template created by Mr. Stout and make sure that the recurring characters he created continue to have the personas and behaviors he imbued them with. When people read my Wolfe stories, I want them to be comfortable with "old friends" Nero, Archie, Saul Panzer, Lon Cohen, Fritz Brenner, Inspector Cramer and others.
Q: Are you involved with other Nero Wolfe fans?
A: Yes indeed. Just last December, I was keynote speaker at the annual Black Orchid Banquet of the Wolfe Pack, an organization of Nero Wolfe aficionados. The subject of my talk was The League of Frightened Men, my favorite Rex Stout novel. I urge anyone who hasn't read that story to do so.
Thanks, Robert! Readers, Murder in the Ball Park comes out today!